In the past, land-related information was very difficult to obtain in India – a problem that has been efficiently solved for those looking for this kind of information for Uttar Pradesh with the help of Bhulekh UP.
Bhulekh the digitalized version of land registry, available for anyone, anytime (the work bhulekh has been coined from "bhu" meaning land and "alekh" meaning registry, while UP stands for Uttar Pradesh).
Searching Land Records through Bhulekh UP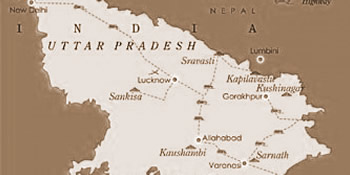 Given the size of the state and the intricate registry-keeping system in place until a few years ago, the digital processing of this incredibly vast body of data was a serious challenge, but now the land registry portal available at bhulekh.up.nic.in provides access to land-related information in a quick and easy manner.
The web portal that offers access to Uttar Pradesh land registry information has been created by the National Informatics Center within the framework of National Land Record Modernization Program (NLRMP) and is currently available only in Hindi. The interface is very easy to use and offers several different filtering options to allow the user to get access to the data wanted as easily as possible.
How to Search Land Records in Bhulekh UP
If you enter bhulekh.up.nic.in into your browser, a fairly self-explanatory page will come up, with district names on the left-hand side of the page. To be able to refine your search, you will have to click on one of the district names to move on to the next level: the selection of the tehsil name (a tehsil is an administrative division of India, similar to the notion of a county in other parts of the world, a unit that has a town or a city as its administrative center). After the selection of the tehsil, a long list of villages will appear – here the visitor must select the village name for the land registry entry, then click "aage". Three options will appear:
search by kashra numbers – the documents specifying land and crop details, including land size, measurements, owner details, employees, the type of soil on the land, the crops and trees grown there;
search by khata numbers – the documents referring to property tax details, issued for new property;
search by name.
Whatever you want to find out about a certain plot of land or its owner, your search will return accurate results within second. What's more, whichever type of search or choose via Bhulekh UP, you can not only view the information requested – you can also print it out on a few clicks.
The Benefits
With the help of land record digitization, it is now possible to facilitate access to information related to type and ownership of land, making any kind of land-related transaction easier and more secure. The implementation of Bhulekh UP is a huge step forward. Those who need this kind of information no longer need to stand in a long line at the local land registry office and there is no longer room for human error – with bhulekh.up.nic.in, you can be sure that getting the information you need is quick and simple.